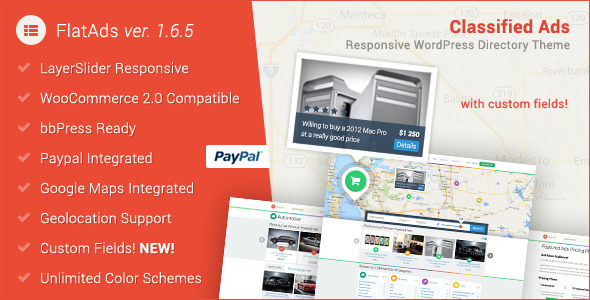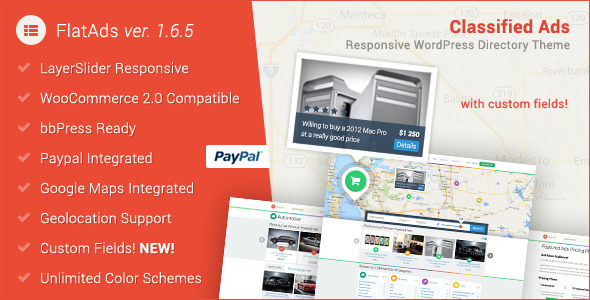 FlatAds – Classified AdsWordPress Theme
The FlatAds is a Premium Directory/Listing WordPress theme, super flexible and has a fully responsive design (try resizing your browser). Built with HTML5 and CSS3 . A lot of thought and care were put into FlatAds making it a pleasure to use. The FlatAds comes compatible with woocommerce 2.1, bbpress, MailChimp for WP plugin.
I carefully handcrafted this template with a strong focus on typography, usability and overall user-experience. It's very quick to setup and easy to customize.
Features
Clean, Modern Design can be used for any type of website
Fully Responsive
Custom fields
Built with HTML5 and CSS3
Unlimited Colors
Paypal Integrated
Google maps integrated
Google maps styes option
Geolocation support
ReduxFramework
Bootstrap 2.3.2
Turn ON/OFF Featured Ads Option
Compatible with WooCommerce
bbPress (Forum)
LayerSlider $15
Sliders are touch swipe compatible
Working Contact form
Cross Browser support
Twitter integrated
Strong focus on typography, usability and overall user-experience
560+ Google fontss
Social media icons
SEO optimized
Translation Support, Includes the .po and .mo files
Unbranded Advanced Theme Options Panel
Lots of Shortcodes, easily accessed as select list
WordPress 3.8+ ready
and much more …
Featured on http://artfulclub.com/
Updates

Version 1.6.5 - 31/01/2015: 

  - Fixed send listing owner email issue.

  Changed files:

  - single.php
  - template-single-version2.php

Version 1.6.4 - : 

  - Register email max length.

  Changed files:

  - functions.php
  - template-register.php
  - category.php

Version 1.6.3 -  03/06/2014: 

  - Pending admin review option added.

  Changed files:

  - functions.php
  - template-add-post.php
  - template-edit-post.php
  - ReduxFramework/sample/sample-config.php
  - template-profile.php

Version 1.6.2 -  01/06/2014: 

  - Fixed user upload image error.

  Changed files:

  - functions.php

Version 1.6.1 -  29/05/2014: 

  - Fixed duplication data on listing page.
  - Fixed default category issue.
  - Added upload custom avatar image option.
  - Improved the upload images function for multiple images from different folders.
  - "No image" image holder added.
  - Added the words for translation to .mo and .po

  Changed files:

    - single.php
    - template-single-version2.php
    - css/custom.css
    - js/custom.js
    - css/bootstrap-responsive.css
    - template-homepage-v2.php
    - template-homepage-v1.php
    - search.php
    - index.php
    - functions.php
    - template-edit-profile.php
    - template-profile.php
    - author.php
    - languages/en_US.mo
    - languages/en_US.po

Version 1.6 -  17/05/2014: 

  - Added Custom Fields for categories.
  - Changed social account register design.
  - Search widget with LayerSLider.

  Changed files:

    - functions.php
    - template-add-post.php
    - template-edit-post.php
    - js/custom.js
    - single.php
    - template-single-version2.php
    - css/custom.css
    - template-login.php
    - template-register.php
    - template-reset.php
    - template-homepage-v1.php
    - template-homepage-v2.php

Version 1.5: 

  - "Post your ad" fixed on mobile devices.
  - Fixed colored text on map infoblock.
  - Fixed featured ads not showing.
  - Facebook/Twitter/Google+ login/registration system.
  - Added Miles/Kilometers system option.
  - Added maxim range option.

Version 1.4: 

  - "Post your ad" fixed firefox adblock issue.
  - "Delete" button added on listing in my profile page ( rollover to see it ).
  - Fixed discovered bugs.

Version 1.3: 

  - Big documentation update. 
  - fixed a few bugs.

Version 1.2: 

  - Added video support. 
  - Added a new version of listing detail page. 
  - Fixed firefox category bugs. 
  - Fixed author page bugs. 
  - Made the price optional.

Version 1.1:

  - Added boxed/wide layout option.
  - Added "Contact owner" form on ad page.

Version 1:

  - Initial release


Credits
Subscribe to agurghis's New File RSS Feed
Latest Themes

Related Posts