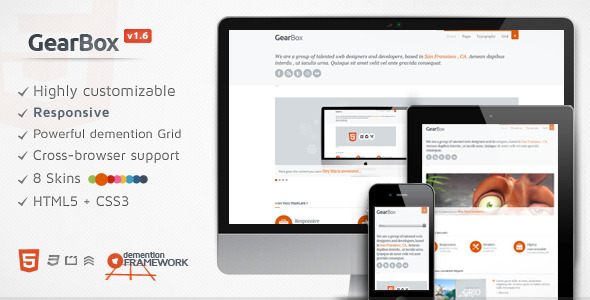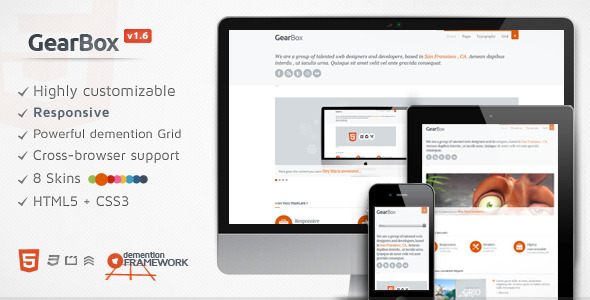 Gearbox is a Responsive HTML template build on our highly customizable , easy-to-use and SEO friendly framework.
[CURRENT VERSION v1.6 – 9/23/2013]
Latest Update v1.6 -- (See the changelog for more)
  - Remade the Twitter feed to be comply with Twitter API v1.1.
  # changelog.txt contains more info about updated files.


Stay connected to get update notifications
–
Twitter |
Facebook
Features
Highly customizable, Easy to use framework

Since GearBox HTML template is build on demention Grid , customizing the layout is a piece of cake !

General features.

HTML5+AJAX contact form.
Ready-to-use contact form with cross-browser support
Filterable galleries with lightbox (Highly customizable ).
Comes in two different gallery styles (you pick the column count).

Menus and Multi-level Dropdowns.
Main navigation with multi-level dropdown lists.
– dropdowns (level 2+) dynamically change their positions to suit the available space.

Sub menus (use them anywhere in the page you want)

CSS3 buttons (Highly customizable).
CSS3 Pricing tables (Highly customizable).
Includes 3 different pricing tables to show you the flexibility of the framework.
Sliders[Flex] with touch swipe support.
Google fonts and Self hosted fonts
CSS @font-face fonts – just include the css file you want.
Twitter feed and Flickr feed (with lightbox).
Social networking icon widget.
The template includes 36 Icons(PNG files).
Removable boxes and expandable boxes.
Accordians and Tabs.
Tooltips and Image captions.

And a lot more …

Responsive

Looks nice on Any device – Large screens , Tablets , smartphones etc.

The template adapts its layout , images and even videos to suit the screen resolution

Future-proof code. Cross-browser support

Valid HTML5 (Semantic markup)
Optimized to get the best out of modern browsers : The template uses browser's native features (form validation , transitions , etc.) over Javascript when available.
Tested in all major browsers

Search Engine Optimized code , SEO friendly framework

Valid HTML5 .
Faster page load time
With demention grid , you can position columns regardless of their source order.
Header sizes can be changed with CSS classes so you won't need to add h* for just changing the font size. Eg : you can add .h1 class to a <h3> element to give it the h1 look without changing its semantic meaning.
Titles (Page header , Blog title, pricing box headers , widget titles etc.) are controlled by CSS classes so you can use an appropriate h* , or any other element to suit your need .

Extensive documentation (showing the template in action)

Comes with

How to's
Live demos
And a reference section for premade CSS classes !

Our direct help and support

Contact us from our Themeforest profile—it is simple as that !

Free updates (see the roadmap)

You can expect a lot of new template files/layouts ,skins and improvements in the next updates

And even more (Check out the demo to see them for yourself …
Used images/icons as sample content (many thanks to their designers !)
Change-log (see changelog.txt for more info)
~ 9/23/2013  - Version 1.6
  - Remade the Twitter feed to be comply with Twitter API v1.1.
  # changelog.txt contains more info about updated files.

~ 10/16/2012  - Version 1.5.4
  - Added a better fix for the twitter-feed related issue.
  # changelog.txt contains more info about updated files.

~ 10/16/2012  - Version 1.5.3
  - Twitter script updated.
  - Changed -ie- prefixes to the proper -ms- prefixes in base.css
  # changelog.txt contains more info about updated files.

~ 6/28/2012  - Version 1.5.2
  - Fixed time links in Twitter feed.
  - Now the Contact form scrolls to "success" message when the message has sent.
  - Other Minor fixes/improvements.
  # changelog.txt contains more info about updated files.

~ 5/21/2012  - Version 1.5.1
  - Fixed an iOS-safari/Android browser related bug in preloader.

~ 5/10/2012 - Version 1.5.0
  - Added direct Youtube and Vimeo support in lightbox
  - Improved/updated the documentation.
  - Other Minor fixes/improvements.
  # changelog.txt contains more info about updated files.

~ 5/1/2012 - Version 1.4.1
  - Fixed IE8-media-query polyfill bug
  - Added  "files updated" section to changelog.txt

~ 4/29/2012 - Version 1.4.0
  - Added a new Page template - FAQ page [faq-page.html]
  - Added XING logo to the social-icons collection (user request)
  - Other Minor fixes/improvements.

~ 4/22/2012 - Version 1.3.0
  - Added a Javascript solution for iOS viewport scaling bug.
  - Updated/Improved the documentation.
  - Fixed the Flickr feed.
  - Other Minor fixes/improvements.

~ 4/18/2012 - Version 1.2.0
  - Improved dropdown menus (main navigation)
    - Now dropdown menus dynamically change their positions to suit the available space
    - Style improvements.
  - Added a new Page template -Homepage suggestion 3 [home-suggestion-3.html]
  - Other Minor fixes/improvements

~ 4/14/2012 - Version 1.1.0 
  - Added 2 New page  Templates.
     -Homepage suggestion 2 [home-suggestion-2.html]
     -Layout  nav+content+sidebar [layout-nav+content+sidebar.html]  
  - Fixed the Webkit "blinking" issue with gallery type 2.
  - Fixed captions bounce effect on Webkit.
  - Improved the main navigation.
  - Other Minor fixes

~ 4/11/2012 - Version 1.0.0  released <img src="/images/smileys/happy.png" alt=" :)" title=" :)" />  


Support
Please feel free to contact us at any time if you have questions related to our products. We will get back to you as soon as possible.(usually within 24 hours.)
If you find a bug , please let us know ASAP .
A Lot Of Awesome Things To Come !
Stay Tuned..
Related Posts