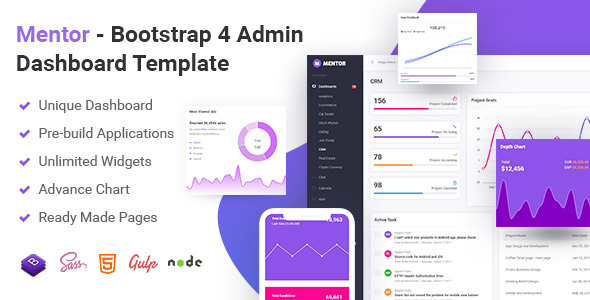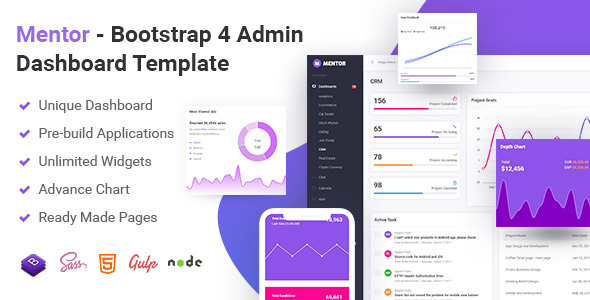 Mentor admin dashboard is robust yet a lightweight bootstrap 4 admin dashboard template for backend admin panels. It is fully responsive and lays its foundation on Bootstrap 4. It comprises of 90+ Page Templates, 40+ Ready to use Widgets, 9 Unique Dashboards and multitude things on the list for your backend application. It has its constitution done in accordance with the modern and sleek design which make it easy to customize. We have developed the Mentor Admin in a way that it is lucid to get any enhancement and modification done.
In our product – 'Mentor', we have focused on certain domains. And for every domain, we have laid emphasis in the minute details that come along. And we have invested the majority of our time and efforts in assuring the product is one of its kind. We request you to have a glance at the different features that we have included and implemented in every domain:
Default dashboard is the one that suits every purpose and needs. It was developed in a way that every domain dashboard needs are fulfilled. All the general purpose features are included in this domain which makes it suitable for any and every domain.
We have a proficiency of 10 years in Car Dealer and we know the domain inside out. For the same, we made a theme and it has crossed 1000 sales number so far. We possess a good grip on this category and hence we have utilized the same in this product.
Specifically for this product, we request you to have a glance at our features:
We have created a unique car dealer dashboard and for which we are sure that is perfect for car dealer domain.
Site activity widget will help the client to know the daily visitor's activity to manage the site.
Sale analysis trend will help to identify the sales overall progress and revenue generated from it.
A safe deal comparison chart will help to know which cars are having maximum sales new or used cars.
Top inquires table will help the client to know which cars are in demand.
Page views widget will help to know daily pageview and numbers.
Leads by make model will show which company is having a maximum number of inquiries.
Most viewed pages will show visitors percentage and from which country they belong to.
The lead overview will indicate from which form lead is generated maximum.
There is our Product – Ciya Shop on themeforest which lays its base in E-commerce. We studied the entire e-commerce market and got to know the whereabouts of the same. Till now, we have sold 1000+ Ciya Shop themes and 500+ iOS and Android applications are live which are based on Ciya Shop. We have included the below-mentioned features in the E-commerce domain which are not only unique but also beneficial.
We have added a top-selling products table which will help the client to manage the inventory.
Lifetime sales comparison chart which will help the client to maintain the products.
Yearly revenue and sales chart to know about the growth and profit of a website.
Invoice status table to know about daily invoices and their status which use to manage orders fast.
Traffic generation comparison chart to know from where the traffic is coming to the website which will help to maintain correctly.
Best selling product widget which allows to manage the inventory of that product and manage the orders.
Sales overview comparison to know the all-around performance of the website.
For this domain too, we dived into the minute details. We have developed a Cupid Love template, iOS and Android applications and it was an aid to let us get a good hold on this sphere too. For the Dating domain, we have implemented our experience and developed certain distinctive functionalities:
This dashboard is purely beneficial for all the dating websites.
Top 4 widgets will show the live date of all the users coming to the site.
User registration chart will show all time user registration.
User feedback will show positive and negative reviews of the present users.
Ad mob will help to manage advertisements for different user groups.
Upload image will prove how many image uploads are pending and belong to which gender.
Tickets table will show all the ticket status and take action quickly.
Site visitors will show which gender is visiting more to the site.
Top countries will give details of maximum users belongs to which country.
Top Searching Devices widget will show users are using which devices.
Similarly, we have explored other fileds, gathered their minute details and worked accordingly in implementing them. Please have a look at the list below to justify the features we have included:
Live price carousel will help to know the latest price of all the stocks.
Sale analysis trend will show the pattern of the market in the live market.
Weekly top sellers will show which team member is achieving the targets fast.
Top buyers will show which stocks are in demand and number of quantities.
Jobs seekers/providers will show the percentage of job seeker and provider.
Site visitors widget will show which category users are visiting more to the website.
latest job seekers table will show users detail and their application status.
Open position table will show which positions are open and how many days are left.
Traffic source widget will help the client to know about users are coming from which sources.
The monthly top search will show which city is generating maximum traffic source.
Total revenue will show overall revenue generated.
Particular widget to showcase projects status and completion percentage.
Total hours widget to know how many hours are required and how many billed.
Support ticket widget will show all the latest tickets and their details.
The ongoing project will show projects detail and their present status.
Employee list will show employee info and their department details.
Daily Activity will show the overall task list for the day.
Bidding overview chart will showcase bid status and conversion ratio.
Income analysis chart will show the overall growth of a company.
Revenue overview chart will showcase the revenue generated from which departments.
Property agent widget will help to message directly to a particular property agent.
The recently added property will show which property is added recently and their details.
Property overview widget will help to know more about properties listed from sell or rent.
Project activity will show the development stage of a particular feature.
Agent list will show all the agents registered to the website.
Live currency ticker to know about the live prices of all cryptocurrency.
Top 4 currency widget to show their live prices and trends.
The safe deal chart to showcase active and unconfirmed trading deals.
The transaction will show the dynamic sales generated.
Buy/Sell cryptocurrency form to make trade fast.
Trade history table to show live trades going on.
Recent orders table to show all live cryptocurrency orders.
During our journey in the development of this platform, we have invested multiferous efforts as this is not just a skill-based solution but, a content-based application. i.e, it involves development which typically reinforces facts and basic skills from only about 25% of the overall effort. The remaining 75% efforts we need to put into the criteria such as investigating, analyzing, organizing, communicating, thinking critically, inquiring, designing, evaluating, applying the solutions to the real world situation. It accrues up to lots of hours, efforts and work. Thereby, we request you to have a closer look at our product and let us know your reviews.
Mentor Feature List
| | |
| --- | --- |
| Node js powered | Gulp Task Manager |
| Bootstrap 4 | SCSS Included |
| Google Fonts | 8 Different Icon Fonts |
| Mail Application | Chat Application |
| Vector Maps | Google maps |
| 9 Unique Dashboards | 40+ Widgets |
| Full Calendar | Unlimited Charts |
| Forms | HTML Editor |
| Data Table | Export Table |
| Authentication Pages | Custom Pages |
| Responsive Ready | Retina ready |
| Stunning support | Lifetime free updates |
Note:
Images used in the demo are not included in the Downloaded Package. However, you may purchase it separately. All credits are included in the documentation. We provide placeholder images with recommended image size mentioned on it.
Feel free to contact us with any questions you may have. You're the reason we're here! We would love to hear any constructive feedback.
If you love the template, Don't forget to rate it out!
CHANGE LOG:
Version 1.1 – 20th June 2019

  Fixed -  NPM vulnerabilities
  Update - Gulp updated from version 3 to 4.
  Update - Bootstrap updated from 4.1 to 4.3.1
  Update - jQuery updated from 3.0 to 3.4.1
  Update - Bootstrap Tagsinput updated
  Update - Table Export Updated

Version 1.0.1 – 18th February 2019

  Fixed - Sidebar Menu Toggle

Version 1.0 – 16th February 2019

  Initial Release

Related Posts