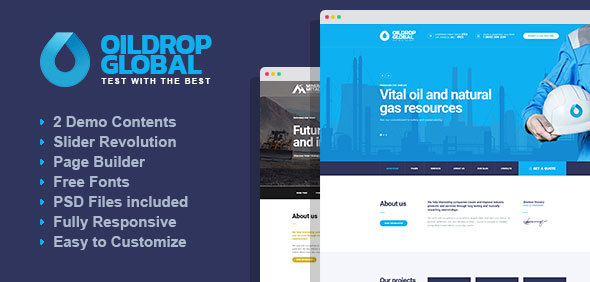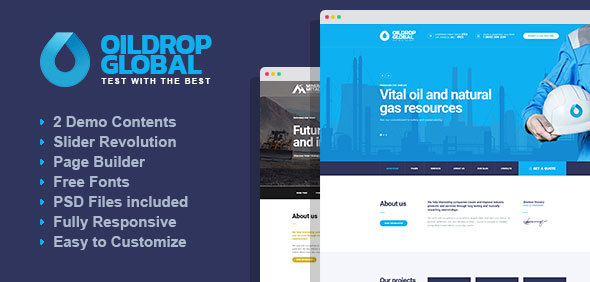 Modern & responsive WordPress theme for oul, gas, minerals and metals management industry – OilDrop
OilDrop is our new modern and exquisite WordPress theme that would be a perfect choice for a website that would be related to oil extraction or oil production company, and any industrial or engineering business.At the moment the theme has 2 demo content for various heavy industry and natural resources management spheres:
Oil and gas industrial website – DEMO
Natural resources mining and management company – DEMO
…more demos are coming soon
OilDrop WordPress is powered by Unyson Page Builder and compatible with Bootstrap 3, all code is perfectly formatted and commented, so it's going to be very easy-to customize. The theme has a perfectly thought through modern, neat design and is powered by a strong base of tools that are necessary for an intended highly-functional web site. This theme has got such pages as the blog page, where you can share the newest achievements of the given sphere, service page and the about page, where you can state your main purposes and objectives and tell the world what services your company has to offer, so that you can present your company to the customers from all the best angles. We stuffed it with tons of widgets and shortcodes. As the bonus, theme package contains carefully layered and logically grouped PSD files.
All that's left for you to do is to just get this template and watch it give your business a boost! And our support team will be no further than one click away in case you need any help!
You may read our documentation and watch video tutorials here.
Please preview various demo-contents of Oildrop WordPress theme:
OIldrop WordPress theme is mobile-friendly and responsive :
Theme Features:
Version 1.0.30 – May 12, 2017
* demo content is updated: issue with absent widgets in footer on 'Our Blog' page is resolved

Version 1.0.29 – May 11, 2017
- Customizer option 'Posts View Layout' is removed (because there was the collision with 'Blog Sidebar' option)
* minor styles fixes

Version 1.0.27 – May 03, 2017
 * the behavior of the gallery slider arrows is fixed 
* minor style fixes
* remote plugins config is corrected 

Version 1.0.24 – April 26, 2017
* the issue with disappearing shortcode in first content line is resolved. The following post formats are fixed: Standard, Video, Gallery

Version 1.0.23 - April 24, 2017

+ Testimonials carousel at Frontpage is set up. (also need update section in Page Builder)

* Customizing -> Site Settings -> Footer Socials: icons indexes and styles are fixed 

Version 1.0.23 – April 24, 2017
+ added option to Customizing: Site Settings: Footer & Copyright: 'Footer background image'
+ widget 'Top News': added widget option 'Display link button?' (checkbox)

* Customizing: 404 Page Settings: Hide Homepage Link: fixed issue with 'or' visibility
* Improved of speed a page download: has been removed unused code, has been improved site preloader
* Customizing: 404 Page Settings: 404 Image: fixed customizer option behavior
* make footer texts more lighter
* fixed background image for header: Customizer: Styling -> Header Image
* improve WPML support: menu bar for mobile: fill the tag <option> with language name if it empty

Version 1.0.21 – April 21, 2017
* the broken blogroll for Standard Post with oembed element in first line is fixed 
* minor style fixes

Version 1.0.19 – April 20, 2017
+ repacked demo-content: dark dummy images replaced by blurred colorized images
+ implemented possibility to install Demo Content from Theme Author remote server (including content with colored images)

* Page Builder: fixed custom background color for 'Column' element

Version 1.0.16 – April 18, 2017
+ included 'Envato Market' plugin as recommended to the theme package. WordPress will periodically check for updates for your theme
+ disable Empty Links (pre-prepared blank links with href='#0')

- removed auto fill 'Excerpt' field on publish Post

* fixed duplicate items in mobile menu
* preloader was optimized

Version 1.0.11 – April 14, 2017
* brushed Parent and Child Theme: reordered enqueue of included styles
* updated pre-packaged plugin revslider from v 5.3.0 to v 5.4.1

Version 1.0.10 – April 13, 2017
+ Customizing - Site Settings - Logo, Site Title & Tagline: added select option 'Default Header Style'

- removed Customizer control 'Footer Background Image' (because it does not match the design)

* resolved issue with 404 error in Customizer mode

Version 1.0.7 – April 12, 2017
* fixed behavior of Customizer options

Version 1.0.6 – March 17, 2017
 Initial Release

Related Posts