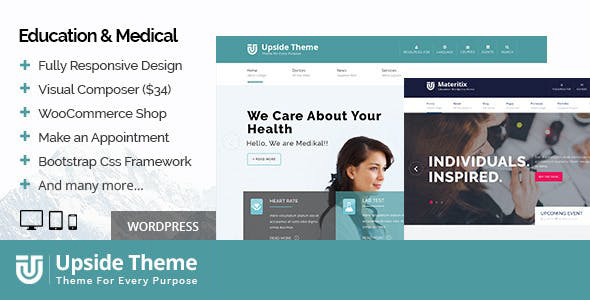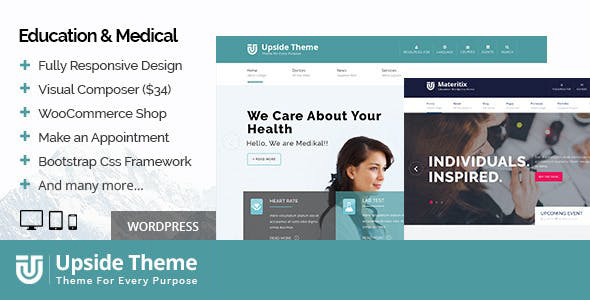 Upside is the ultimate responsive multi-purpose WordPress theme designed for any kind of business websites, from small to medium-sized enterprises. With Upside Education theme, you can find it easy to manage events, manage courses by category, search courses by subject, sell online courses, and manage faculty and staff through back-end. This theme enables you to create a forum page using bbPress plugin and a document page for downloading document right from the site. You can also use Education theme to establish a landing page which is ideal for showcasing your products or services. Upside Medical is suitable for setting up hospital, clinic, dentist, or medical & health websites. This clean & friendly theme helps you manage physician profiles & their work schedules, includes an appointment form for scheduling a meeting using the power of Contact Form 7 plugin.
Built on top of Visual Composer which based on drag and drop page builder interface, you can take full control over your site without having to touch any code. Upside comes packed with various shortcodes, bundled with custom widgets, fully integrated with WooCommerce and other free and premium plugins needed to build up a professional and outstanding online presence. Discover more outstanding features below and online demos of the theme now!
Support
You can get supports through our forum at https://kopatheme.com/forum/.
On working days (from Monday to Friday, UTC/GMT +7), all the questions or problems relating to our template will be responded within maximum 24 hours. No matter how long it takes, we will support you until the problem is completely fixed. Support request sent during weekends will be processed on next Monday morning.

Change log:
#1.2.2 ( March 23, 2017 )
----------------------------------------
* Add new option "Sort by", sort members by ASC or DESC.
* Update: new version of plugin Visual Composer (v5.1)

#1.2.1 ( March 10, 2017 )
----------------------------------------
* Add new option "Sort by start date", sort events by the latest or the oldest.

#1.2 ( December 28, 2016 )
----------------------------------------
* Update: apply fields "datetime" & "group" for metabox

#1.1.9 ( December 16, 2016 )
----------------------------------------
* Improve: use html_entity_decode for 'custom_css'

#1.1.8 ( December 12, 2016 )
----------------------------------------
* Improve js & css.

#1.1.7 ( December 08, 2016 )
----------------------------------------
* Fix bug: Megamenu & Menu Icon conflict with WordPress 4.7
* Support: Themify icon font for Menu icon.

#1.1.6 ( December 05, 2016 )
----------------------------------------
* Replace control type "link_icon" by "repeat_link" 
* Edit widget "Social Links" (skin: Education & Medical)

#1.1.5 ( December 05, 2016 )
----------------------------------------
* Add plugin WPML's language configuration files
* Fix bug: position of slider caption (skin: Kidhouse)

#1.1.4 ( December 02, 2016 )
----------------------------------------
* Update: instagram widget - get latest photos with user_id

#1.1.3 ( November 29, 2016 )
----------------------------------------
# Use "force_balance_tags" for filter "get_the_excerpt" 

#1.1.2 ( November 28, 2016 )
----------------------------------------
* Reorder list of styles (Skin: Education)
* Set Brands Carousel auto-play (Skin: Education)

#1.1.1 ( November 25, 2016 )
----------------------------------------
* Enable advanced fields (Kopa Framework)

#1.1.0 ( November 08, 2016 )
----------------------------------------
* Fix bug: error slugs in vc-components: portfolio, members grid and documents (skin: Medical)
* Update: new version of plugin Kopa Framework (v1.2.7)
* Update: new version of plugin Visual Composer (v5.0.1)
* Fix bug: theme-check "INFO" 
* Fix bug: duplicate excerpt on Member Archive Page (skin: Education)
* Fix bug: invalid custom color for shortcode Service Grid (skin: Kid House)
* Fix bug: invalid taxonomy on 'Search Course' ( skin: Kid House )

#1.0.10 ( October 07, 2016 )
----------------------------------------
* Fix bug display start day on event single page.
* Fix bug display start day on event archive page.
* Fix custom Social share icon and color in header of Kidhouse skin.
* Fix bug in testimonial carousel shortcode element.
* Update tgm plugin
* Update param display style in widget social links
* Update param `Document tags` in element: List document in education version
* Update widget: (Upside) Newsletter Feedburner

#1.0.9 ( May 18, 2016 )
----------------------------------------
* Update: add header images on each page, post

#1.0.8 ( April 26, 2016 )
----------------------------------------
* Fix error permalink in page course search
* Fix bug search course ( Update plugin Upside toolkit to 1.0.5 )
* Update plugin visual composer to 4.11.2.1

#1.0.7 ( March 18, 2016 )
----------------------------------------
* New: Add mailchimp newsletter in education, medical.
* New: Add sticky menu for education, medical, kidhouse
* Update plugin visual composer to 4.11.1

#1.0.6 ( March 03, 2016 )
----------------------------------------
* Update plugin visual composer to 4.10
* Update: enable order event by start date for widgets:
- widget: Latest events in kidhouse theme
- widget: Latest events in education theme
- Upcoming event grid in education theme
* Update: replaced function date() by datei18n().

#1.0.5 ( February 22, 2016 )
----------------------------------------
* Update custom css in sub theme: Education
* New: Add forum bbpress support in sub theme Kidhouse

#1.0.4
----------------------------------------
* Update kopa framework

#1.0.3
----------------------------------------
* Fix error overlay color for row
* Add sub theme: Kidhouse

#1.0.2
----------------------------------------
* Remove some custom fields ( datetime, icon, gallery ) in theme
* Update plugin visual composer to 4.9.2
* Update plugin Upside toolkit to 1.0.1
* Update kopa framework to 1.0.11

#1.0.1
----------------------------------------
* Fix error import data
* Update data for demo

#1.0.0
----------------------------------------
* Initial Release

Related Posts